"In about January 1962 I met Brian Epstein and he was trying to get the Beatles off the ground and get some record label together. I didn't know then that he'd actually been to every record label in the country, including EMI, my own company, but he hadn't seen the little company, Parlophone, which I ran. He'd been turned down by everybody and was a desperate man so he tried to joke on the fact he'd been told about me because I made comedy records. "When the Beatles heard about it, they kind of groaned but then they perked their ears up a bit when they had learned I'd made records of Peter Sellers — they were a great fan of his. Anyway, to cut a long story short, when I heard what Brian had to offer on tape it wasn't very good. In fact, it was awful. But I said I really wanted to find out more about them ... there was something about them that I wanted to investigate. I said, 'The only way I can really check them is to see them. Bring them down to the studio. Bring them to London and I'll spend some time with them.' "So, they came down later, a couple of months later, and I spent an evening, afternoon, and evening with them in Abbey Road Studios. I fell in love with them. I thought they were wonderful people. I mean, they showed no signs of being great songwriters. The best they could offer me were pretty ordinary songs. I thought 'Love Me Do' was the best. 'P.S. I Love You' was another one … 'One After 909'. They weren't great songs but they had tremendous charisma. They had great sense of fun and you could tell they had star quality, you know, whether they were rock and roll artists, or actors, or politicians, they would've made it. They just had that special something."
— George Martin, head of A&R at Parlophone Records and Beatles' producer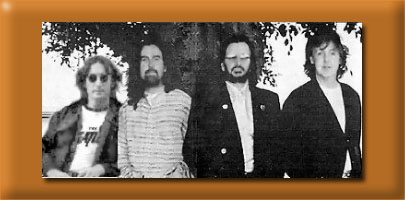 When I was a child I can vividly remember my mom playing Beatles records all the time!! Their music has inspired many great artists as well as their fans and I for one can say, without a doubt, that their music has pulled me through some rough times and remain as one of my favorite bands. I've put together a gallery (opens a new window). I hope you enjoy!
About 4 times anually a Beatlefest is held across the United States. You can get the scoop about where and when the next Beatlfest will be held. Also, where to purchase Beatle collectables from key chains to rare merchandise. I have attended a couple of Beatlefests and if you're a Beatles fan you will definitely enjoy it! There are many different artists, celebrities, and authors who discuss their experiences with the Beatles. There is, of course, tons of music, movies, and the interaction with many Beatles fans, which leaves you feeling high on the energy that abounds! Trust me... you'll will have a great time!
John | Paul | Linda | Ringo | George | Beatlefest